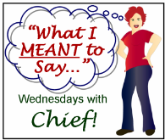 Today is a very special day and WHAT I MEANT TO SAY was...

Happy Freaking Birthday Princess of Sarcasm!!!

Will the Real Princess please stand up???

This is my look a like picture of Princess's profile pic.

Her mug shot:


My Mug Shot:

It's like we are TWINS!!! The likeness is uncanny!!!

I didn't have a tiara so I used my Kentucky Derby hat from Supah Survivor which we are both in and is the reason why I know Princess!

SO love ya and hope you have a Happy Happy Birthday!!!